Hydraulic Gas Boosters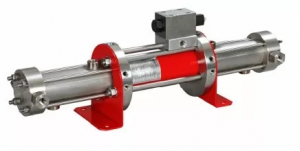 In addition to the air driven range, Maximator offers Hydraulically Driven Gas Boosters in four basic models that cover different pressure ranges

HDLE2 up to 725 PSI (50 bar)
HDLE5 up to 1,450 PSI (100 bar)
HDLE15 up to 4,350 PSI (300 bar)
HDLE30 up to 13,050 PSI (900 bar)

The flow capacity remains constant over the entire pressure range.
There are additional models with double stroke length for higher flow capacities.
Complete systems supplied are precisely customized to the clients' requirements.
Characteristic Features
Hydraulic supply unit with fixed displacement pump or variable capacity pump and electric motor.
Electrical control system for shut down on reaching preset operating pressure.
Shut-off valves, pressure gauges and pressure switches for pressure inlet and outlet.
Air or water cooler.
Options Available
Nitrogen flushing for handling of not inert gases
Frequency converter for speed control
Thermostatic control for oil-air cooling
Technical Data